Game Description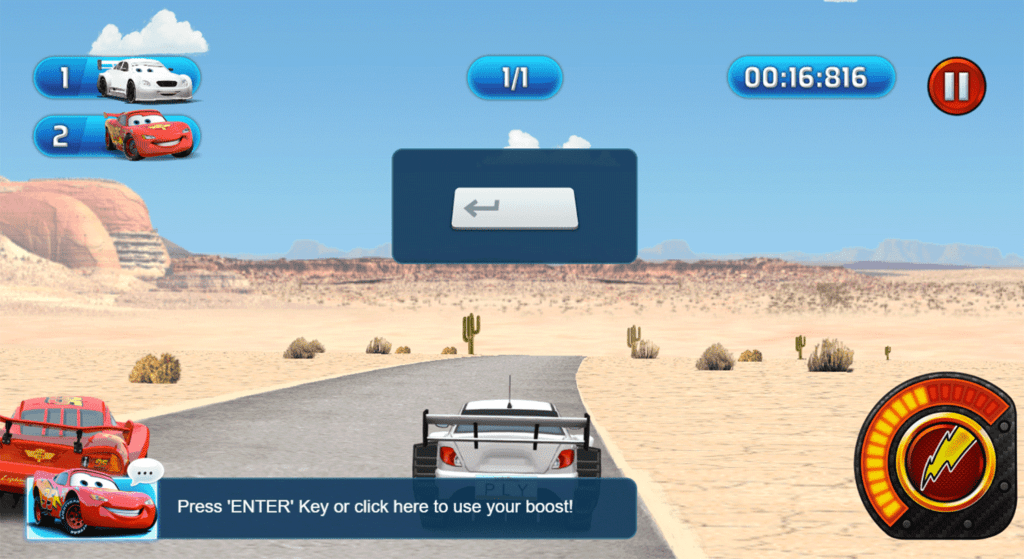 Cars Lightning Speed immerses players in the high-octane world of Lightning McQueen and his friends. Developed in partnership with Disney, this game allows you to step into the driver's seat of iconic Cars characters, customize your cars, and compete in thrilling races against AI opponents.
Game Controls
The game controls for Cars Lightning Speed are designed for easy and intuitive gameplay:
Arrow keys: Use the arrow keys on your keyboard to steer your car.
Spacebar: Press the spacebar to activate turbo speed and leave your competitors in the dust.
Z key: Drift around corners with precision using the Z key.
How to Play Cars Lightning Speed?
Cars Lightning Speed is all about racing to victory. Select your favorite character, customize your car, and hit the track. Your goal is to outmaneuver opponents, collect power-ups, and finish races in top positions. Each victory earns you currency to unlock new cars and upgrades, keeping you competitive as the game's difficulty increases.
Tips and Tricks
To become a true racing champion, consider these tips and tricks:
Master the Drift: Learn to drift effectively around corners using the Z key to maintain your speed without losing control.
Collect Power-Ups: Keep an eye out for power-ups on the track. They can provide crucial advantages, like temporary speed boosts and shields.
Upgrade Wisely: Spend your in-game currency on car upgrades strategically, focusing on areas like speed, handling, and power-ups.
Study the Tracks: Familiarize yourself with each track's layout to anticipate curves and power-up placements, giving you an edge in the races.
Play with Friends: If you're looking for even more excitement, invite friends to race against you in multiplayer mode.
Game Developer
Cars Lightning Speed is a Disney game, developed by Disney-Pixar in collaboration with third-party game developers. The game captures the essence of the "Cars" movie franchise, bringing beloved characters and the thrill of racing to the gaming world.
Game Platforms
Cars Lightning Speed is available on various platforms, making it accessible to a broad audience:
Web Browsers: The game can be played in web browsers, allowing you to enjoy it on your computer without the need for downloads or installations.
Mobile Devices: You can also find Cars Lightning Speed on mobile platforms, including iOS and Android. Simply download the game from the App Store or Google Play to race on the go.
With options for web browsers, iOS, and Android, you can choose the platform that best suits your gaming preferences and devices.
How to Play Unblocked
To play Cars Lightning Speed unblocked, you can explore reputable online gaming platforms that offer access to the game without restrictions. Additionally, on mobile devices, you can download the game from official app stores like the App Store for iOS or Google Play for Android, ensuring a smooth and unblocked gaming experience.
Conclusion
Cars Lightning Speed delivers the excitement and adventure of Disney-Pixar's "Cars" franchise to gamers of all ages. With intuitive controls, thrilling races, and the opportunity to compete as beloved Cars characters, this game is a treat for fans of the movies and racing enthusiasts alike.
Cars Lightning Speed captures the essence of the "Cars" movie franchise, offering players an exciting and immersive racing adventure. Developed in partnership with Disney-Pixar, this game provides a thrilling experience for fans of Lightning McQueen and his friends, as well as racing enthusiasts of all ages.
With its user-friendly controls, players can easily navigate tracks, drift through corners, and activate turbo speed for heart-pounding races. Collecting power-ups and strategically upgrading your car are essential strategies for achieving victory and staying competitive in the game's increasingly challenging races.
Cars Lightning Speed is accessible across multiple platforms, including web browsers, iOS, and Android devices, ensuring that players can enjoy the excitement of racing on their preferred devices. Additionally, the option for multiplayer racing adds a social element to the game, allowing friends to compete against each other.
By mastering the art of drifting, collecting power-ups, and strategically upgrading your car, you can rise through the ranks and prove yourself as a racing champion. Whether you play on a web browser, iOS, or Android device, Cars Lightning Speed offers a dynamic racing experience that's sure to rev up your competitive spirit. Get ready to hit the track and feel the adrenaline rush in this fast-paced racing adventure!