Game Description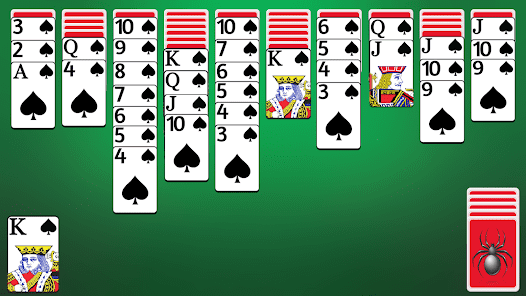 Spider Solitaire is a timeless card game that has captivated players with its blend of strategy and solitaire simplicity. In this article, we'll explore the world of the game, covering everything from game controls to tips and tricks to help you master this classic pastime.
Spider Solitaire is a single-player card game with the goal of removing all cards from the tableau by forming sequences of cards in descending order from King to Ace. It's known for its challenging gameplay and is one of the most popular solitaire variants.
Game Controls
The controls for the game are user-friendly and easy to grasp:
Mouse: Use the mouse to select, drag, and drop cards to their desired locations on the tableau.
How to Play Spider Solitaire?
Playing Spider Solitaire is a solitary endeavor that involves the following steps:
Objective: The primary goal is to arrange all cards in descending order, from King to Ace, in each of the eight tableau columns.
Building Sequences: You can build sequences of cards in descending order regardless of suit. For example, you can place a 10 of hearts on a Jack of spades.
Completed Sequences: Once you successfully arrange a full sequence from King to Ace in a tableau column, that sequence is removed from the game.
Empty Columns: Creating an empty column is the ultimate objective. When you clear all cards from a column, it becomes available for new card placements.
Winning: The game is won when you successfully remove all cards from the tableau.
Tips and Tricks
To enhance your Spider Solitaire skills, consider the following tips and tricks:
Focus on Empty Columns: Always aim to create empty columns, as these offer more maneuverability and space to arrange cards.
Uncover Face-Down Cards: Prioritize revealing face-down cards, as they may hide opportunities for sequences.
Prioritize Long Sequences: Work on building long sequences of cards, which can be more beneficial than short ones.
Think Strategically: Plan your moves carefully to avoid getting stuck with no available moves.
Practice Patience: Spider Solitaire can be challenging, but persistence and patience are key to mastering the game.
Game Developer
Spider Solitaire is a classic card game that has been included in many versions of the Microsoft Windows operating system. It's considered a staple in the world of digital solitaire and has delighted players for decades.
Game Platforms
Spider Solitaire is most commonly available on the following platforms:
Microsoft Windows: Spider Solitaire has been bundled with Windows operating systems for many years, making it easily accessible to PC users.
Online Platforms: Many websites offer free versions of Spider Solitaire, allowing players to enjoy the game in web browsers on various devices.
Mobile Devices: There are numerous Spider Solitaire apps available for both iOS and Android, enabling players to enjoy the game on smartphones and tablets.
How to Play Unblocked
Playing Spider Solitaire unblocked is rarely an issue since it is a simple and harmless card game that doesn't pose any significant security or privacy concerns. You can play it on most online platforms or download it as an app without encountering many restrictions.
Conclusion
Spider Solitaire stands as a timeless classic in the world of card games, known for its challenging and strategic gameplay. This single-player pastime offers players an opportunity to hone their card-playing skills and exercise their patience as they strive to clear the tableau. With its straightforward controls and widespread availability on various platforms, Spider Solitaire continues to be a favorite for solitaire enthusiasts of all ages. Whether you play it on a Windows PC, online, or on your mobile device, Spider Solitaire promises an enjoyable and intellectually stimulating gaming experience. So, shuffle the virtual deck, stack your cards strategically, and embark on a solitaire adventure that has stood the test of time.